Where Passion, Skills & the Market Intersect
Our Philosophy
The Chirico Career Center partners with all students to help them identify, enhance and accomplish their career development, internship, job search and educational goals in their transition from college to career. We work with students to discover their passions, develop professional skills, and then find where their passion, skills and the market intersect. We believe it is there that you find a life of meaning and purpose. We believe that work is part of a meaningful life, and that having a "good job" and "doing what you love" are not mutually exclusive.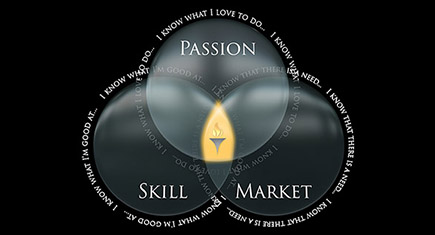 Finding Your Calling
What does a life well lived look like? What is my purpose? My vocation? What it is you feel called to do? These are just some of the questions that Providence College students are being asked to consider when planning for life after college.
Your Return on Investment
Is the purpose of going to college only to get a job? We believe it's much more than that. At Providence College we are redefining "return on investment" to include a life of meaning and purpose.
Did You Know?
96% of seniors indicate participation in internships or career appropriate experiences.
1,050+ alumni have joined FriarLink, PC's online networking platform.
140+ students participate in shadowing experiences each year during winter break.
1500+ students attend our annual Fall Career EXPO, featuring the Major/Minor Fair, Grad School Fair and Career Fair.
88% of the graduates of the class of 2020 were either employed or in graduate school within six months of graduating from PC:

69% were employed
95% are in the field they want
30% were attending grad school